Jeanette Glose Partlow 2014 Chemical DOTY Award Winner Committed to Giving Back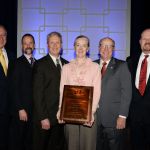 Family-owned and operated Maryland Chemical Company, Inc. is thrilled to announce that Jeanette Glose Partlow, President, was named 2014 Distributor of the Year by the National Association of Chemical Distributors (NACD).  Individuals selected to receive this award demonstrate outstanding commitment to the chemical distribution community, working steadfastly on behalf of the whole industry and NACD.
Jeanette has been leading Maryland Chemical since 1999.  The company was founded by her grandfather and father in 1953. Her father, Fred Glose, remains Chairman.  Mr. Glose had this to say about his daughter's achievement, "As a father I'm proud, as an industry professional I'm honored to consider her a colleague.  This award is definitely well deserved.  I also want to recognize and thank our excellent team here at Maryland Chemical for the great work they do every day to focus on delighting our customers and on Responsible Distribution."
Ms. Partlow, who is Baltimore based and widely known as one of the region's most involved women business owners received her award on November 20, 2014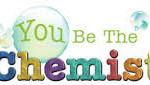 during the Business Meeting at the NACD's 43rd Annual Meeting. This meeting is widely considered the premier chemical distribution industry event of the year on a national level.  Reflecting on receiving this honor and her intentions to "pay it forward" for greater good in the community, Partlow says, "A long standing goal of mine has been to bring the "You Be the Chemist" Challenge to the Greater Baltimore area, starting with my own alma mater and expanding from there in future years.  A goal and passion of mine is stimulating interest in chemistry and STEM education; winning this award gives me the perfect opportunity to do so."
For the first time, a Baltimore region school will be participating in the impactful "You Be the Chemist" program. Jeanette's alma mater, Notre Dame Preparatory School is joining alongside schools in Montgomery and Dorchester counties. The "You be the Chemist" program is an initiative offered by the Chemical Education Foundation (CEF), the program is designed to enhance K-8 science education by introducing the science of chemistry as it relates to our everyday lives and to the study of other sciences nationwide.  This year Maryland Chemical, is also a corporate sponsor and supporting the activities across the state.
Jeanette,  recently added the 2014 NACD Distributor of the Year award to others she has received for her work and commitment to the community including the Maryland Top 100 Women and Circle of Excellence, Smart CEO BRAVA Award, Top 100 Minority Business Enterprise Award, Small Business Innovator Award, Girl Scouts of Central Maryland Distinguished Woman, among others.  Ms. Partlow is a graduate of Leadership Maryland 2013, University of Baltimore (J.D.) and University of Virginia (B.S.) and is a Baltimore, Maryland native.
For more information about Maryland Chemical, Inc. please visit www.marylandchemical.com or call 410-752-1800. For more information regarding NACD please visit www.nacd.com and for more information for the Chemical Educational Foundation please visit www.chemed.org.
Tagged:
2014 Chemical Distributor of the Year Award Winner
Jeanette Glose Partlow
maryland chemical
Women Business Owner Baltimore
women in business Baltimore
You Be the Chemist Maryland