With a global virtual event launching on Feb 1, 2014, there is much to talk about for 28 Days of Kindness. The concept was developed as a way to showcase kind acts occurring around the country.
"We're looking to give a little love this February, but not in the traditional sense," says founder Jessica Watson. "I do believe that one small act of kindness can go a long way. I want to see if we can create a positive ripple effect of kindness in the universe."
The website itself will serve as a resource center for ideas on easy good deeds that anyone can do. The deeds range from something as simple as paying the toll for the person in the car behind you, to dropping off coloring books and crayons at the pediatric ward at your local hospital.
28 Days of Kindness is a website, and then there is the global virtual event, taking place on Facebook, where woman in business, visionary entrepreneur and MyCity4Her subscriber Jessica Watson hopes to gain a huge following of participants, each making small changes in their communities to support the greater good. We thought this was a very neat initiative and jumped right on board. Want to get involved? You can share your stories on Facebook for a chance to be featured on the website.
"One good deed deserves another," says Watson, and she looks forward to seeing what impact this project for social change can have in the lives of others.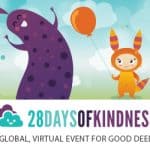 ABOUT:
Made in Baltimore and seeking global impact, 28 Days of Kindness is the brainchild of creative visionary Jessica Watson, owner of the design studio JWatson Creative. Visit the website at http://28daysofkindness.com to learn more about how to get involved and join our virtual event. Or join it on Facebook.
Follow 28daysofkindness on Twitter with the hashtag: #‎28dayskind‬