Meet Caryn Sagal – Spirited Woman Giving Back
Caryn Sagal, Senior Vice President with Lawrence Howard & Associates, brings 24 years of agency public relations experience. Named Best Flak (PR professional) by Baltimore Magazine, she has generated numerous broadcast interviews, feature articles and cover stories in local, regional, national and trade media. Along with writing articles and collateral materials, she has managed campaigns for a diverse range of business-to-business, non-profit, real estate, retail and healthcare clients.
Throughout her career, Sagal has lent her talent to benefit many area nonprofits — providing pro bono publicity and even chairing major fundraisers. A speaker for the Baltimore County Chamber of Commerce Non-Profit Committee and Association of Fundraising Professionals-Maryland Chapter, she currently serves on the Pikesville Chamber of Commerce Advisory Board.
Caryn has always been motivated to help others and to put her abilities at the service of her community, her parents being her first source of inspiration. Now, she serves as an inspiration and she will be recognized as Spirited Woman Giving Back along with 16 other Baltimoreans at our upcoming event. Join our celebration for an amazing day in the Inner Harbor.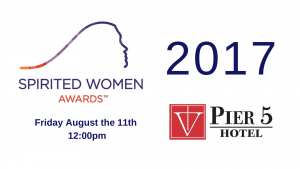 The Awards will take place on Friday August 11, 2017, 11:30 AM – 2 PM at the Pier V Hotel 711 Eastern Ave, Baltimore, MD 21202. The profits of the event will be designated to support the continued efforts of The Giving Spirits Foundation as well as Benevolent Baskets, an organization that provides life skills and job training to formerly homeless women through a growing gift basket business.
Tickets are $75 until July 31, then $80 leading up to the event. To purchase tickets click here.
Tagged:
baltimore county chamber of commerce
Baltimore Magazine
benevolent baskets
Caryn Sagal
Giving Spirits Foundation
Lawrence Howard
Pier V Hotel
Spirited Woman Awards 2017
spirited woman giving back 2017