Meet Karen Lerario – Spirited Woman 2017
Karen Lerario, Executive Director of Benevolent Baskets, co-founded the program in 2008 with the goal of helping women in Baltimore transition from homelessness to independent living. As a Marriott executive for more than 15 years, Karen oversaw the opening of new hotels nationwide before deciding to bring her corporate skills to the nonprofit world.
She met Lesley Geisel while working at Pathways addiction treatment program in Annapolis, and their social enterprise was quickly born. In addition to overseeing the gift basket business and life skills programming at Benevolent Baskets, Karen also works with Bay Area Community Church on the finance team. Her leadership – whether in the hotel industry, finance or women's empowerment – is grounded in the belief that success is defined by authentically caring for others.
Karen' dedication to helping others, especially the homeless, inspires many to give back to the community. She will be recognised as Spirited Woman of Baltimore 2017 on August 11th. Come celebrate with us for a delightful afternoon on the waterfront.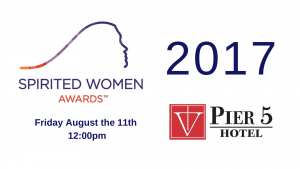 The Awards will take place on Friday August 11, 2017, 11:30 AM – 2 PM at the Pier V Hotel 711 Eastern Ave, Baltimore, MD 21202. The profits of the event will be designated to support the continued efforts of The Giving Spirits Foundation as well as Benevolent Baskets, an organization that provides life skills and job training to formerly homeless women through a growing gift basket business.
Tagged:
bay area community church
benevolent baskets
Giving Spirits Foundation
karen lerario
lesley geisel
pathways
Pier V Hotel
Spirited Woman Awards 2017
spirited woman of Baltimore 2017