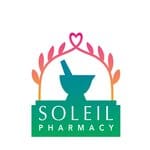 Long Business Description
Thuy Cao of Soleil Pharmacy is interested in your good health. As your neighbors, they live, work and play in the same community as you and your family. They believe it is our responsibility to take care of our community, and it is a responsibility they take very seriously.
They make a point to understand the health needs of you and your family and pride ourselves on personalizing their care to meet your healthcare needs. Unlike large chain pharmacies, they are community-based, and strive to provide a family-like atmosphere for all of their customers. To find out more about Thuy Cao and Soleil Pharmacy visit their website by clicking here, or find them on Facebook.