Why did you get involved with Sante?
A friend approached me about Santé since I was just getting my catering business started unbeknownst to her, I was a kidney recipient.
When did you first participate and what did you do?
My first event was Santé 2014 at M&T Stadium, my prepared dish was Mac & Cheese.
What is your role this year?
My role at this year Santé is Restaurant Chairperson and my catering company will prepare Grilled Shrimp Ceviche.
You're a business owner of two successful enterprises – What are they?
I'm the proud owner of Celestial Salon and Celestial Catering Inc.
How do you balance your time between both businesses?
The wonderful part about my businesses is that they are housed in the same location. I purchased my property in 2000, a two-story stand-alone with a basement.  It was originally a hair salon and day spa, and I converted the first floor into a commercial kitchen and 50-seat venue.
You went back to school to pursue your dream of having a catering company? What prompted that decision?
I had been a licensed cosmetologist for 25 plus years and for me the industry and economy had changed.
What made you decide to have a second business?
I have always been an entrepreneur at heart, so it was just the ideal thing to do.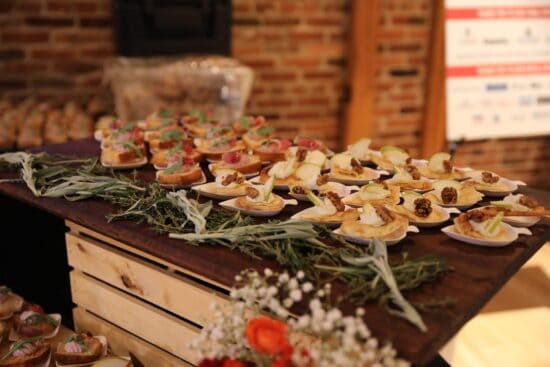 What is advice you'd give to anyone looking to start a business?
My advice to new business owners is to have a passion for your craft and capital!
What can you say to anyone who is wanting to pursue a passion as an encore enterprise but is afraid to?
No doubt about it, it's fearful: you only fail if you never try.
Where can people find out more about your businesses?
Website celestialcateringco.com, Facebook: Celestial Catering, Instagram: Celestial_Inc, Phone: 410 325-9113 
About Tondria's personal connection to Sante and the Kidney Foundation…
"During my six-week check-up after the birth of my second child, I was informed that my creatinine was elevated and that I needed to see the nephrologist. The nephrologist diagnosed me with end-stage renal failure resulting from preeclampsia from my pregnancies. He informed me that I had been spilling protein into my urine and I experienced swollen ankles.
There was no immediate impact on my life or lifestyle. I continued to be followed for the next 10 years by my nephrologist checking my creatinine levels every 6 months.
I have to admit due to fear I stopped getting regular bloodwork to check my levels for about 2 years. Upon returning to see my doctor, I was told that I needed to start dialysis. He recommended peritoneal dialysis due to my active lifestyle. I started peritoneal dialysis right away in 2007 and got on the transplant list. Both my mother and 1st cousin were tested to be donors. Both were denied. My mother was denied due to a knee replacement surgery. My cousin was denied because she found out during the testing that she was also at risk for kidney failure.
In 2009, I received a call from the University of Maryland Hospital early during the day and was told that they had found a possible match but needed to do more testing. Later that night I received another call saying it's a "Match."  I checked into the hospital that night and received the kidney the next morning. I experienced a rejection right after receiving the kidney and received anti-rejection treatments for the next week. After a two-week hospital stay, I went home.  I haven't experienced any serious transplant complications since my release from the hospital.  
I returned to work as a proprietor and hairstylist of Celestial's Hair Salon.  I attended culinary school to pursue my other lifelong passion for cooking. I am now the owner of two thriving businesses, Celestial Beauty Center and Day Spa and Celestial Catering featuring Sweet Treats by Tondria.  I have been blessed to see my first son go off to college and I am preparing for my second son to attend college as well.
The first time I participating in Santé, I sponsored a team in 2011 Greater Baltimore Kidney Walk, which raised over $1,000.  I have participated in several other Kidney Projects. 
 I have been blessed to celebrate my 10-year transplant anniversary on October 26, 2019."