Grand Prix Food & Wine Circuit Tour
This weekend, though the tendency may be to AVOID the downtown area and all the horrors you've heard 
the Grand Prix is sure to cause in terms of traffic – we wanted to encourage Baltimore area women in business to be brave and venture into town.  Last night (Thursday August 30, 2012) we did a quick tour of some of the City's most consistent as well as trendiest food and wine destinations ; we talked to owners, patrons, Chefs and tourists and got great insight about what to expect if you want to enjoy the "feel" of the race from a food and wine perspective whether right near the course – or a little further away from the hub bub. Bottom line – GO – it's fun and you should. Read on to find out where we went…
Our first stop was Spirits of Mt Vernon to kick off the weekend in style, as well as get a preview of the wines they were going to be tasting this weekend. Fabulous choices from California, including the famed Scharffenberger Sparkling – talk about a way to celebrate! This sparkling wine is approximately two-thirds Chardonnay and one-third Pinot Noir. The full malolactic style adds a vanilla cream character, producing a round and full-bodied wine, it's perfect for any special occasion or just because. Owner Victoria Schassler had this to say about the wine… "this wine is simply lovely – with or without food, it's festive, fun and makes the perfect stand-out host/hostess gift if you're looking for something special for this weekend's Labor Day fun. It guarantees a first place finish whatever its paired with, it's just a delightful wine"
After Spirits we stopped by the Center Club (the City's premier, private business club) where the air was
almost electric with excitement and anticipation for the weekend's events. Executive Chef C. Robert Bannan, III had lots of winning menu items planned for the guests luck enough to enjoy the race away from the crowds, but close enough to get one of the best views in the City. This weekend members and their guests were highly encouraged to visit the Club for lunch, dinner, drinks or just to take a reprieve from the weather. For more information on the Center Club click here.
Staying in the downtown area – Ruth's Chris, located in the Pier V hotel was also hoping to lure Grand Prix revelers with a some special offerings including a Grand Prix menu – we never quite made it there in our grand dine around but we highly encourage you to check it out – as the venue has a gorgeous deck that provides a great view of the harbor. For more information click here.
We made our way away from the harbor with remarkably little headache and this surprisingly around 6pm no less – so we assure you – navigating around downtown IS POSSIBLE this weekend, just use common sense. No time could be better to try the Light rail or the Circulator, but if you do drive down – use logic and research parking options before you get down there as the closer to the race, the harder it will be to find parking.
A great place to go that's close enough to feel the buzz but removed enough to give your ears a break is Harbor East. With that in mind, we concentrated the rest of our Grand Prix Dine around tour in that area because it was close enough to be convenient but far enough to provide a bit of a retreat from the madness.
Our first stop was the Foreman/Wolf group's Italian property – Cinghiale where Executive Chef Julian Marucci has prepared two very special dishes to celebrate the race this weekend – of course we tried both. In fact, the four dishes we sampled were simply excellent- no other way to describe them and as is customary with all Foreman/Wolf properties – expertly paired with delicious wines.
To start we had the pleasure of enjoying a summer Salad of Artichokes, Local Nasturtium Flowers, Garlic Chives, Lemon and Parmigiano with a divine vinaigrette. The crunchiness of the artichokes with the spicy, fruity balance of the gorgeous and most edible flowers was beautifully complimented by a 2011 Soave.
Manager David Goodman was attentive and lively as he orchestrated a beautiful procession
of tasty morsels and we'd be remiss to not to say each was better than the previous. The second dish we sampled was a house made fresh pasta made with red wine in the pasta dough to give it a richer more robust quality. The pasta was dressed with a succulent veal ragu that had a rich, meaty almost feral quality to it. Despite its intensity – the dish managed to remain light enough for a summer supper – and was thoroughly enjoyable. It was coupled with a charming Fruili wine – a Schioppetitino (a red Italian varietal grown predominately in the Friuli-Venezia Giulia region of northeast Italy) made it all the more fun. This varietal is known as the "gun shot" grape – a nod to races starting perhaps? Who knows? Either way we found it to be fantastic!
Course #3 was a dish of Grilled Magret of Duck served on a smidgen of fresh (local) corn polenta which was complimented with chanterelle mushrooms, huckleberries and drizzled gently with an Amaro reduction. This was paired with a Barbaresco (2009) that was showing frisky but willing to talk and thus we very much enjoyed the dialog between the dish and the wine – not to mention with Cinghiale owner Tony Foreman – who stopped by to check on our meal and say hi. When asked if he thought people should make an effort to get downtown to eat and enjoy the sites he insisted they should. "We're here and ready, besides it's a great time to enjoy the City."
We'd be remiss if we didn't say our visit at Cinghiale ended with an incredible dessert of Butterscotch Panna Cotta. This offering was nothing short of heaven on a plate and all who sampled agreed it was quite possibly one of the best desserts ever had, really. What made it particularly special was the caramel sauce that accompanied it particularly memorable thanks to the hint of peat imparted by the use of Single Malt Scotch in its reduction. Semplicemente perfezione e brava! To learn more about Cinghiale or reserve click here.
Onward from Cinghiale we decided to zip into Pabu,  where in collaboration with Michael Mina, Ken Tominaga,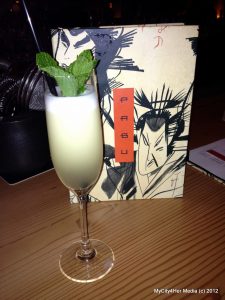 famed for his sushi craft at Hana in Sonoma County, (which is a must do if you happen to be on the wine circuit in California anytime ever) brings forth a modern take on traditional Izakaya-style dining and is located in (well more next) to the Four Seasons. There we sampled one of the bar's signature cocktails, a Lemon Sour that was refreshing and bright – the perfect palate cleanser to allow us to hang on and make a few more laps at the dining the table.  Pabu is remarkable for many reasons and is a stand out in Baltimore's dining scene for a few very good reasons:
#1. They fly in fish from the revered Tsukiji Market (4 times a week no less), and have a great menu featuring modern and classic takes on the fun, Japanese style tapas style of dining known as Izakaya style (minus the tatami matts thank goodness!)
#2. The sommelier and beverage Director for the Four Seasons – Tiffany Dawn Soto, is as approachable as she is knowledgeable (a welcome quality in Baltimore where those who know much about wine often seem to make a pleasure of alienating others with their knowledge.) Soto is revered as one of the few master sake sommeliers in the United States and an esteemed sake kikizake-shi, or "master educator." Which segways into our third reason why Pabu is a "must do" ….
#3. They have, bar none the best specialty sake selection in the city. Period. If you're curious about this mysterious, often under-estimated and largely misunderstood beverage that resembles beer more than wine on account of the fact it is made from grain whereas wine is made from fruit.  Check with the Four Seasons as Ms. Soto offers educational sake tastings on a quasi-regular basis.
If that's not enough – go when it's quiet (which is rarely) and speak to Executive Chef Jonas Kim – and ask him to show you the eggs (he'll know what you mean – it's our secret!). If you've ever had Tam ago (or Tamagoyaki as it is also called) and didn't LOVE it – try again. One of our diners who notoriously hates all forms of cooked egg thought she'd had a spiritual awakening when she sampled the Tamago offered at Pabu.  Chef Kim insists it's the eggs "when you start with something perfectly delicious -the finesse is in understanding it would be disrespectful to mess it up." The wonderful thing about Japanese cuisine is it favors gluttons – as we were beginning to fear we may have become and we definitely appreciated the opportunity to take a break from indulging and enjoy a perfectly timed walk towards our next and last destination for the evening… CHAZZ.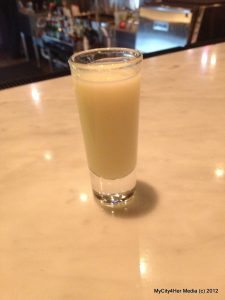 The final loop in our Grand Prix Food and Wine Circuit Tour was fittingly ending at Chazz; not just because it's a great place to end a night on the town (with a kitchen that is wonderfully accommodating to late diners and serving as late as 10 on weekdays and midnight on the weekend) but because you get the pleasure of being greeted and treated like family by two of Baltimore's most affable, likeable and savvy restaurateurs. Alessandro Vitale and his brother Sergio. If you haven't been to Chazz, which was co-developed by the Vitale brothers and Oscar-nominated actor Chazz Palminteri aims to redefines the Italian American culinary experience, and we say they are doing a pretty good job.
Of course Sergio gregariously insisted we start with a glass of home made Limoncello, which is an Italian style liqueur favored and popular in southern Italy. Limoncello can be hit or miss, but this version that's actually creamy almost qualifies as a dessert and manages to be velvety on the palate yet refreshing at the same time.
Having sampled the house cured salumi and the famed "mozzarella" bar on previous occasions, and feeling somewhat overly indulgent from our evening's escapades we decided to demure on any dinner offerings and go for the gusto with a trio of desserts. Bread pudding, tiramisu and a delightful ricotta cheese cake coupled with signature cappuccino – need we say more? We will – all three were absolutely marvelous however the bread pudding was to die for. Enough said. To learn more about Chazz click here.
Tagged:
Aldo's
Alessandro Vitale
Chazz
Chazz: A Bronx Original
Cinghiale
dining in the Inner Harbor
Foreman Wolf restaurants
Jonas Kim
Lemon Sour at Pabu
Pabu
Sergio Vitale
Spirits of Mt Vernon
The Center Club Baltimore
the Four Seasons Baltimore
Tiffany Dawn Soto
Tony Foreman
Victoria Schassler
women in business Baltimore