Coverage of the Women's Health Protection Act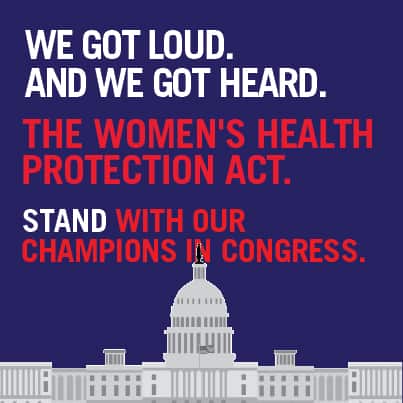 By Amber Reumont
On Tuesday, July 15th, the Senate heard arguments regarding the Women's Health Protection Act of 2013. Senators Richard Blumenthal and Tammy Baldwin along with Representatives Judy Chu, Lois Frankel, and Marcia Fudge worked together to draft the Women's Health Protection Act in response to the trend of state legislators imposing sweeping regulations targeting abortion providers. The bill's chief goal is to ensure that all American women have sufficient access to safe, legal abortion care regardless of where they live.
The bill protects those women who reside in states that have imposed strict medical regulations, waiting periods, and similar restrictions aimed at limiting abortion access. According to the Guttmacher Institute's annual report detailing abortion access, 226 state-level restrictions have been passed since the year 2011; 21 restrictions have passed during 2014. The majority of abortion restrictions were passed during 2011, and the onslaught seems to have ebbed. However, very few legislatures have since passed opposing laws to protect a woman's reproductive rights, and it is now much harder to access safe, legal abortion than it was five years ago.
Many states have enacted restrictions under the guise of protecting women from unsafe settings and procedures, yet the medical restrictions specifically target abortion providers in hopes that they will be forced to shut their doors. The Guttmacher Policy Review clarifies that many of the laws impose unnecessary expectations: "Most often, the restrictions dictate that abortions be performed at sites that are the functional equivalent of ambulatory surgical centers, or even hospitals, which makes the delivery of health care services prohibitively expensive." Such restrictions make it extremely difficult for small clinics to continue providing abortions because they cannot afford to make the necessary changes. Although these new regulations seem to imply that abortion is an unsafe procedure that requires extensive emergency planning, it is actually very safe, and most women experience no complications following legal abortions.
Nancy Northrup, President and CEO of the Center for Reproductive Rights, testified on behalf of the bill, explaining, "[the bill] would prohibit states from singling out reproductive health care providers with oppressive requirements that grossly exceed what is necessary to ensure high standards of care—and that apply to no similarly low-risk medical procedures." The Women's Health Protection Act would protect the approximately 60% of American women that live in states which have imposed strict abortion regulations as well as the one in three women who choose to seek abortion during their lifetime.
Roe v. Wade granted women the right to choose, ensuring that women have access to safe abortions. However, the wave of restrictions threatens to force women to turn to potentially deadly solutions. Nancy Northrup reveals, "a 2012 study in Texas found that 7% of women reported attempts to self-abort …Now, women are crossing the border into Mexico to buy miscarriage-inducing drugs at flea markets or off the shelves at pharmacies." To ensure the safety of women, abortion must be kept accessible. The current wave of restrictions harshly threatens women's health, particularly low-income women, who have the highest rate of unintended pregnancies and the most difficulties accessing safe, legal abortion. Above all, the bill protects women's health by ensuring they have sufficient access to safe abortion providers.
Encourage your members of Congress to #ActForWomen