Believe in Music Festival
​
By Casey King
On Saturday July 26th, All Good will present the Believe in Music Festival at Oregon Ridge Park. However, there is more behind this festival than other music festivals. The Believe in Music Festival is a way to gather the community in order to benefit the Believe in Music program, a program based in Baltimore. As part of the Living Classrooms Foundation, this program gives underprivileged children living in Baltimore City the chance to express their lives and emotions through music.
​Living Classrooms has been giving young people on Baltimore a chance to learn in a nontraditional way for many years. Through hands on learning and job training, the foundation gives underprivileged youth a chance to reach their full potential through one of the many Living Classrooms programs.
Kenny Liner founded the Believe in Music program. As a member of The Bridge, who happens to be performing at the festival, Kenny has brought his love and knowledge of music to Baltimore in order to encourage children to engage in self-expression and to bring community awareness to the importance of music education.
​The program operates from the POWER House facility in the Eastside Children's Target Investment Zone. The POWER House has made a name for itself within the neighborhood. Dorothy Scott, a community leader in Baltimore, says that, "Without living classrooms this community would be dead because there is nothing here for (the kids) but the POWER House". The programs means so much to each person involved, and each member is dedicated to making a safe and encouraging environment for all the kids.
Children look forward to learning and having fun each day at the POWER House, but on the 26th the Believe in Music kids will be per forming at the festival alongside DJ Who in-between sets. Other popular bands in the lineup include Lake Street Dive, Thievery Corporation, and Jimmy Cliff. The festival will also have food and other vendors for all ages, with kids under 12 allowed in for free.
​Proceeds from the Believe in Music Festival will go to the Believe in Music program in order to support and grow their foundation in Baltimore. It is important to give back to your community when you can, and Living Classrooms has gone above and beyond to bring Baltimore a great festival to celebrate the importance of music and music education. This will be one that you won't want to miss!
​For a full line up, ticket information, and vendor applications you can visit the festival's website, www.believeinmusicfestival.com. For more information on the Believe in Music program or the Living Classrooms Foundation you can visit www.livingclassrooms.org.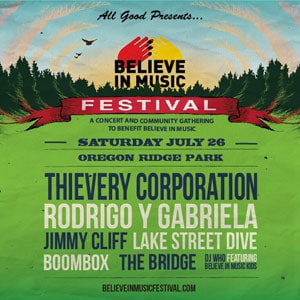 Tagged:
All Good
Baltimore
baltimore city
Believe in Music
living classrooms
living classrooms foundation
mission tix
Music Programs
Oregon Ridge