The Spirited Women Power Luncheon and Awards was founded in 2006 in Baltimore, MD.
The first event was held in conjunction with the Founder and CCO of MyCity4Her.com winning a prestigious "Woman of Spirit" Award from The Red Cross of Central Maryland. The goal was to raise money for a worthwhile organisation and give the power women of Baltimore a reason to congregate, connect and celebrate in August, a month that is known to be notoriously dull.
In 2007- the awards component of the event was added to continue the inspiring momentum.
Here's a the history of past winners:
Inaugural Spirited Women Awards Winner Susie Nivens 2007
Inaugural Spirited Women Awards Winner Susie Nivens 2007
Spirited Woman of 2008 Bunny Kohn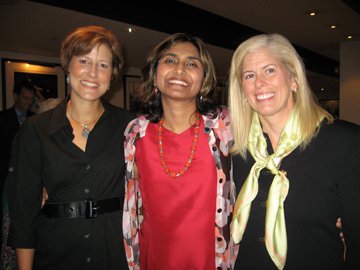 Spirited Woman of 2010 Sheela Murthy with Amy Klein and Laura Volkman Neumann
The Spirited Woman of 2011 Louise Phipps Senft with Debi Katzenberger