Women in Business Events we don't want you to miss
Here you will find MyCity4HER.com's section of curated events today's businesswomen shouldn't miss. Events include those we sponsor, those we produce ourselves, discover ,and know you'll love.
What constitutes great women in business events?
We've been doing events for over 15 years ourselves. We know the winning formula behind successful women in business events because we excel at producing them ourselves.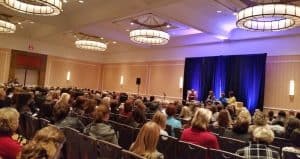 Great people, awesome venue, committed sponsors, and programming that provides value, and connection. We purposely favor events that are welcoming, diverse, and open to participation from all kinds of attendees.
Events you will find here are vetted to ensure they fulfill multiple purposes. Events listed here appeal to and welcome a wide variety of audiences.  We purposely don't include much info, unless they are sponsored, beyond providing the date, organizer, and URL/Link, so you can see as much or as little as you want to.
What you won't find listed here are events that exclude visible, or other minorities, or promote superiority to the point of exclusion. Our goal at MyCity4HER is to help every businesswoman, from the micro/solopreneur to the seasoned Executive, knowledgeable professional, or highly successful woman business owner make lasting connections, gain insight, and improve her chances of success. 
We feel inclusive, and diverse events are the ones that provide the most value for every level of businesswoman. They are also the ones where the magic happens.
We are out of high school ladies. It's time to build networks that increase our sense of self-esteem, our knowledge and resource base, and our net worth, not our egos.
Our focus tends to be national, and global, and we are very discerning of what type of events we promote. We associate ourselves with events that reflect our values of inclusion, diversity, professionalism, and innovation.
Events coming up for women in business you don't want to miss are the following:
Idias Conference NYC – July 10, 12th – For more information click here.
TEDWomen – Atlanta, Georgia – October 11-13th – For more information click here.
Women in Tech Global conference – Hybrid Virtual & in person –  NYC, London, Madrid – April 23-25th – For more info click here.