The Spirited Women of Baltimore Awards & Power Luncheon 2012 – Recap
Wednesday's Spirited Women of Baltimore Awards and Power Luncheon was a SELL out at the beautiful Four Seasons Baltimore in downtown Inner Harbor Baltimore City. The packed room overflowed with some of the region's top business owners, executives and community leaders.
MyCity4Her Media's Founder & CCO Monyka Berrocosa beamed at the event's success and the outpouring of support for the Giving Spirits Foundation's call to raise money and awareness for the valuable cause of the Red Cross of the Chesapeake Region's mission. When asked what her thoughts about the event were " This is a HUGE happening for our company, for the community and for women in business as we come together to support one of the most worthy causes in the area – the Red Cross!"
The sold out happening's guest list overflowed with a veritable Who's Who" of the Baltimore business community including: Lynne Brick (Brick Bodies Fitness Services & a sponsor of the event), Jane Frankel Sims (Title Sponsor of the event),  Linda Cromwell (Being There Senior Care and another sponsor of the event) as well as Alvin Katz  & Arlene Ciroula ( both with Katz Abosch), Amsale Gelatu (PMS Parking Inc), Janet Amirault (Software Consortium), Helga Surratt, Patrick Brennan & newly appointed CEO Eric Brennan ( About Faces Day Spa & Salon), Bonnie Heneson (Bonnie Heneson Communications), Caryn Sagal (Lawrence Howard and PR lead on the event), Veronica Cool (PNC Bank), Susan Katz (The Growth Coach), Hammond Jay Dugan IV (Pierre C. Dugan & Nephew Properties), Joanne Sullivan (The Baltimore Business Journal), Colleen Pleasant Kline (Miles & Stockbridge), Tammy Schneider (Glass Jacobson), Elaine Shanley (Y&CO.), Lori Trumble (Business Concierge Services LLC), Sharon Pinder (Mayor's Office of Women and Minority Owned Businesses),  Garvin Mackenzie (The Mayor's Office), Richard Yoskey (Wells Fargo), Rosa Scharf (Howard Bank), Jesus de Gilberto (Maryland Hispanic Chamber of Commerce & FCC), Sherrie Johnson (ABC 2 News), Judith Dumrauf (The Four Seasons of Baltimore), Mitch Ford (Morgan Stanley Smith Barney), Janine Di Paula Stevens (NAWBO BRC President & Vircity Owner), Leslie Shreve (Productive Day) and many more.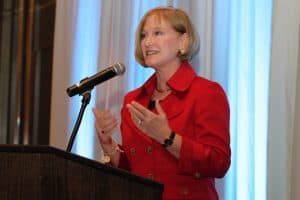 Bonnie Stein represented the Red Cross of the Chesapeake region which was again this year's designated beneficiary charity.  Ms. Stein addressed the crowd with greetings and encouraged much needed support for the Red Cross who's blood bank donations are at a critical all time low. Over $2100 was raised during the "LIVE ASK" portion of the event that has for the past 6 years raised well over $55,000 in cash and much needed support for the Red Cross of the Chesapeake region's most valuable mission.
The room was beautifully appointed with flowers by Flowers & Fancies (whom Berrocosa touted at the event's hero – jumping in to save the day when the previously secured floral vendor backed out last minute) and linens from women-owned Table Toppers. Flower and Fancies Owner – Eddie Wingrat's generosity and incredible desire to support the event was further evidenced by his insistence that his sponsor ticket allocation go to accommodate the last minute demand of what truly must have been one of Baltimore's most sought after tickets. The event initially sold out a week in advance but thankfully the Four Season's willingness to add additional seating at the last minute allowed several more attendees to be able to partake in the spirited celebration of some of the Baltimore region's most inspiring women.
This year's grass roots event that is a complete volunteer effort and part of the Giving Spirits Foundation's gift to the designated charity had greater visibility largely due to a more robust committee and the dedicated expert efforts of three of the City's top marketing and public relations professionals – Caryn Sagal (Senior Vice President, Lawrence Howard & Associates) and Jessica Watson (Creative Director/Owner of J. Watson Creative) both of whom, along with Berrocosa (a highly respected outsourced CMO for some of the region's top professional services firms) created the perfect storm of branding, communications and buzz.
The final tally for this year's efforts was still being tabulated at the time of this article. When asked why she does this event, Berrocosa who was surprised by a touching gift of recognition for her efforts on behalf of the event's committee had this to say "everyone has the power to help someone, everyone has a responsibility to make the community a better place – this is the small way I've chosen to do so. It's nothing special – it is just the right thing to do." The Giving Spirit Foundation is a public 501(c)3 charity that was founded at the same time MyCity4Her, Inc was created, since it's inception it has donated well over $70,000.00 to worthy causes in the Baltimore area. For more about the Giving Spirits Foundation click here.
2012 Spirited Woman of Baltimore winner Maria Johnson Darby was visibly moved by the honor and was beaming as were all five winners during all of the event's pomp and circumstance. Ms. Darby noted during her acceptance speech that this marked the start of a new beginning as she leaves her previous position with the Girl Scouts of Central Maryland to pursue a new direction and opportunity with  the SEED School. The SEED School of Maryland is a statewide, public, college-preparatory boarding school offering an extraordinary learning and living experience in preparation for college and beyond. The Maryland General Assembly passed legislation to establish the school which receives state, local and private funds. The Maryland State Department of Education (MSDE) oversees the school and holds it accountable to state and federal standards for teaching and learning.  To learn more about their valuable mission click here.
All content and images (c) 2012 MyCity4Her Media Reproduction or copy without written permission is strictly prohibited. Thank you.
Photography credits: Stacey Johnson, MyCity4Her Media