What it takes to build a "Super Star Company" in Today's Economy
Building a Super Star Company in Today's Economy
On Tuesday, February 26, MyCity4Her Media CCO and Founder, Monyka Berrocosa, welcomed guest and author, Rick Polson, to her radio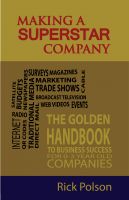 show to discuss his new e-book, "Making a Superstar Company." Polson's book outlines the steps new business owners should take to achieve their goals most effectively. Throughout his career, Rick has come into contact with many people who are great at what they do, but not as great at building motivated clientele who are inclined to return. He wrote the book "Making a Superstar Company" with the intention to help business owners take their business to the next level.
In a challenging economy, many business owners are struggling to figure out the magic recipe to grow their business with limited time, money and resources.  Women business owners and entrepreneurs often wear many hats and can be at a loss for what is more important to help their company grow and outshine their competition.  This book aims to serve as a road map to help demystify that.
Super Stardom for Your Company – You can achieve it!
Rick shares many valuable tips from his book, here's a few of the favorite things we learned when he was our guest on MyCity4HerRadio…
Do your research

In order to guarantee the best choices are made in planning for a new business, it is important to do the proper research. The first step should be to conduct a survey, using 10 to 15 multiple-choice questions, to gain perspective on what the potential customer base will be responsive to. Then, a business owner can make strategic and worthy decisions that will surely produce results. Through the survey, a business owner should be able to figure out what method the target audience is best reached by, at what times, and more.
Repetition builds reputation
In business, commitment and consistency are imperative. Simply testing the waters and trying a little bit of everything doesn't produce results. It is far more proactive and productive to commit to one idea and maximize the investment made. If one product is advertised on the radio three days a week at random times, and another on the television five days a week at equally random times, the inconsistency creates a skewed image of the business and fails to firmly identify with its market. By being organized and integrating marketing communications over the long-term, a company not only builds credibility in its products, but also in its name and its relationship with publics.
Use all the online and promotional tools available to you
Website
It is important that a business not only has a website, but understands how to use it effectively. Different people learn differently, making it crucial to include information sources for different types of thinkers. A video on the homepage, whether it is an existing commercial or an informational snippet, helps audio-visual learners gain the same insight others may gain from articles. All websites should also have content or links from industry relevant news sources that are updated once a day or week, depending upon frequency of customer visits to the site.
Social Media
With social media on the rise, it is vital that business owners learn to use these outlets effectively. Just like anything else in business, consistency and organization is key. Posts should be generated roughly two to six times a day, and at regular times. People are creatures of habit, and visit the Internet at around the same hours each day expectant of regular communication each time. Posts can cover news stories, events, thoughts, and other relevant, to the point content.
Public Relations
To utilize public relations effectively, business owners must come in contact with necessary communities. A list should be developed of professionals from industry relevant newspapers, radio stations, news stations and interest sites. A second list should be developed containing a potential customer base. The first five days of every month, a newsletter should be sent to both contact lists of any milestones in the recent past or near future in the company. Throughout the rest of the month, both contact lists should receive relevant short articles regarding new hires, new products, special events and the like, to highlight the business' activity. By approaching communication methodically and regularly, businesses can build relationships with key publics that will contribute to success.
Have a plan – then Work the plan; don't let the plan work you!
Want More Tips?
Listen to the podcast and see the other pieces of wisdom that were shared.
If you would like more information on how to start a super star company, you can find Polson's e-book on Amazon, Barnes and Noble, Sony, Kobo Books, and Smashwords. You can also find more information on Rick Polson's Facebook page for "Making a Superstar Company."
Tagged:
advice for business owners
advice on entrepreneurship
building a super star company
business advice
business book reviews
marketing
marketing and promotion advice for small business
rick polson
running a successful business
women entrepreneurs