Women Empowering Women
By Amber Reumont + Casey King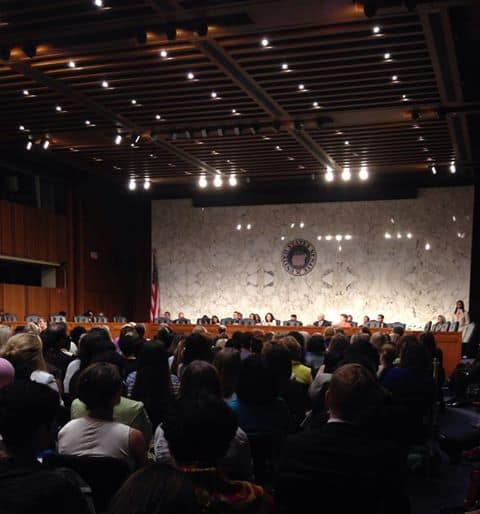 This week, Women Impacting Public Policy holds its Annual Leadership meeting in Washington, D.C. WIPP advocates and educates women and minorities who are involved in business, giving them a voice in our country's legislation process. By representing over 4.5 million businesswomen, the organization is helping to level the playing field for women-owned businesses by focusing on issues important to women and minorities, like tax policies and equal pay.
On July 23rd, the Senate committee on Small Business and Entrepreneurship held a hearing entitled Empowering Women Entrepreneurs: Understanding Successes, Addressing Persistent Challenges, and Identifying New Opportunities. WIPP highlights this discussion as a focus of its annual meeting because the number of female entrepreneurs is quickly increasing; moreover, women in business face unique challenges and successes throughout the startup and growth of their businesses. Keeping women informed about public policy and empowering women to contact their representatives to make their voices heard is a chief goal of the annual meeting and WIPP overall.
The senate committee hearing intends to bring attention to the significant challenges of business ownership specifically impacting female entrepreneurs, and it plans to highlight various solutions to the limitations frequently confronted by women in business. The hearing also examines the effectiveness of government programs established to assist women in business such as the Women-Owned Small Business Federal Contract Program, the Women's Business Center Program, and the lending initiative for women business owners. Female entrepreneurs often encounter many roadblocks along the road to success. In her review of the barriers plaguing women, Chairwoman of the Small Business and Entrepreneurship committee, Maria Cantwell, details three obstacles women in business are forced to overcome: "access to capital, access to federal contracting, and access to business counseling." According to Cantwell's report, access is the key that many female business owners lack, so expanding access and ensuring women are treated with fairness is the group's goal.
Women in business face far more challenges than men starting and growing their endeavors. In particular, women face obstacles when procuring loans and venture capital funds. Such challenges significantly limit the number of women able to pursue business ownership. Cantwell explains in her review, "Women account for only 16 percent of conventional small business loans and 17 percent of SBA loans even though they represent 30 percent of all small companies." Additionally, the administrative rules of the Women-Owned Small Business Federal Contract Program have hindered its ability to connect an adequate number of women with government contracting opportunities. Due to the program's ban on sole source authority, women business-owners miss out on a multitude of opportunities. Lastly, sufficient access to counseling and training in the form of Women Business Centers is severely lacking. Women Business Centers lack necessary funding because they have not been revitalized since 1999; as a result, this useful resource is unable to reach many prospective entrepreneurs. Though there are many more challenges affecting women in business, the three issues pointed out by Cantwell encompass the root of the problem.
One of the many other important events held this week, included in the Leadership Meetings' agenda, was the House Committee Meeting on Women's Business Issues. The meeting included key committee staff members and was hosted by Chairman Sam Graves of Missouri's 6th District.  Chairman Sam Graves has done his best in the past to try and give small businesses the tools they need to succeed in the business world. According to
allbusiness.com, in a written statement Graves has said, "Small business owners have been under attack by this administration,". He then goes on to say "We need to get government off their backs and let them do what they do best — create jobs." Sam Graves has strong opinions and bold ideas on how to make business for everyone, including women, more successful. He prides himself on "supporting the American spirit of entrepreneurship". This is good news for women who are ready to start making their business grow. Graves' passion for small business makes him seem like a good choice in hosting the Meeting on Women's Business Issues.
Women Impacting Public Policy knows the importance of women in business, and it knows the importance of empowering women to get involved in public policy. Showcasing the Empowering Women hearing and House hearing on Womens' Business Issues helps WIPP to equip women with the tools necessary to make informed political decisions. Accounting for 30 percent of business owners, the number of female entrepreneurs continues to increase, yet women remain disadvantaged. To ensure equal treatment and opportunity, WIPP has highlighted the importance of the Empowering Women and House hearings, which hopes to call attention to the roadblocks female entrepreneurs face while drafting solutions to remove those hindrances. Promoting women in business would enhance the economy by creating jobs, and it would enrich the opportunities available to women by expanding access to necessary resources for female entrepreneurs.
For a full agenda of what happened during the WIPP's Annual Leadership Meeting, you can visit http://www.wipp.org/event/2014annualmeeting.