Last night was the 2012 Distinguished Women's Award ceremony at Baltimore Country Club in Roland Park. This annual fundraiser benefits all girls who are members of Girl Scouts of Central Maryland.
This marked the 36th year for this event which was designed to honor the civic and professional achievements of local Maryland women AND to offer high school aged girls the opportunity to meet and observe prominent business women and leaders as they conduct their day-to-day activities at work. The hope is that each Girl Scout that is selected as a Girl Scout Shadow will be able to visualize herself in these roles.
In attendance were many of the power brokers of Baltimore's women in business community. In fact, being a board member on the Girl Scouts of Central Maryland Board is considered to be quite the badge of honor given the women involved share the highly desirable and common qualities of being excellent in their professional field, actively supporting the community and perhaps most importantly serving as excellent mentor examples and potential sponsors to up and coming women leaders.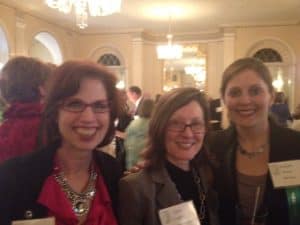 Some of the region's most influential business women that attended included: MyCity4Her Affiliate and business owner Carol Coughlin of Bottom Line Growth Strategies, Michelle Motsko of Barclays, Ellen Yankellow of Correct RX Pharmacy Services, Patricia Brown of Johns Hopkins Healthcare, Jane M.  Brewer, Shareholder Katz Abosch, P.J. Mitchell (formerly of IBM),  Julie Mercer of the American Red Cross,  Sheela Murthy who is the GSCMD Board Chair and Founder of the acclaimed The Murthy Law Firm, Bonnie Heneson of Bonnie Heneson Communications, Ann Quasman of WomanTalk Live, MyCity4Her Affiliate Gina Ramsey  of Adventure Web Productions, and many more.  MyCity4Her Affiliate Jeanette Glose Partlow of Maryland Chemical was also one of this year's honorees.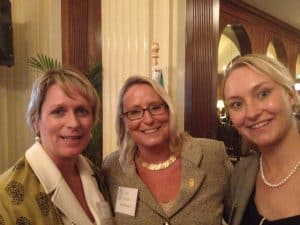 Many attendees included past winners of the highly coveted award which reads like a roster of Baltimore Women Leadership who's who. Lori Trumble President of Lori M Trumble LLC, and a GSCMD board member was in attendance with her daughter Nicole Trumble who was a past shadow from a previous year. CEO of the Girl Scouts of Central Maryland Traci Barnett was ecstatic at the turnout and enthusiasm "With it being our 100th anniversary – we could not have hoped for a more incredible event. This is so exciting for the Girl Scouts and everyone who supports them; each year I don't know who is more inspiring – the women who win the awards, or the outstanding Girl Scouts who shadow them."
The 2012 Honorees included:
Harriett Dopkin, President of The Classic Catering People, who was shadowed by Mercedez Evans
Marianne Fischler, President of Foundry Wealth Advisors, LLC, who was shadowed by Sarah Niezzelski
Jeannette Glose Partlow, President of Maryland Chemical Company, who was shadowed by Allison Seitz
Ava Lias-Booker, Esq. Baltimore Office Managing Partner, McGuire Woods LLP, who was shadowed by Chloe Burgess
Bonnie Phipps, President and CEO Saint Agnes Health Care, who was shadowed by Samantha Stokes
The Honorable Stephanie Rawlings Blake, Mayor of Baltimore City who was shadowed by Brianna Simkins
For more details about the honorees click here.
All of the proceeds from the Distinguished Women's Award reception go towards ensuring that these and a myriad of other programs and
experiences are available to every girl who wants to be a Girl Scout. It is a worthwhile program—70% of all women in Congress were Girl Scouts and 64% of female leaders listed in Who's Who of American Women in the United States were once Girl Scouts and have gone on to leadin business and other fields.
The Girl Scouts have a huge event coming up June 24, 2012 called the Girl Scouts Grand Slam held at Oriole Park at Camden Yards during the game between the Baltimore Orioles and the Washington Nationals. For more info click here. 
Sponsors of the event included: Johns Hopkins Medicine, Ann Quasman's WomanTalk Live, Network 2000, Katz Abosch, Real Street Staffing, Correct RX, MyCity4Her.com, CFG Community Bank, Maryland Public Television, St Agnes Hospital and others.
For more information regarding the Girl Scouts of Central Maryland and how you can help or get involved click here.