Meet Jasmine Simms – Spirited Woman in Entrepreneurship
Jasmine Simms is a mom-entrepreneur, salon consultant, and industry expert. With over 15 years of beauty and hospitality experience, she has been trained by, and has also trained staff for one of the top luxury spa and hotel brands in the world, Four Seasons. She has served in product development, menu development, and protocol training. Jasmine has been featured and consulted for her expertise by numerous publications including Fox News for her knowledge on industry innovations, safety and health concerns, and trends.
Upon finding her niche in the hospitality industry, Jasmine founded a luxury service nail salon named Baltimore's Best,  Scrub Nail Boutique, and subsequently co-founded Moms As Entrepreneurs, an award winning resource to help moms open sustainable businesses in Baltimore City.
Jasmine describes being spirited as a quality that brings out the best in others around you. Her Spirited Woman in Entrepreneurship Awards is therefore well-deserved, as she strives to share her gifts and talents to help build the community around her. This year, five amazing women will be recognized for their accomplishments as Spirited Women in Entrepreneurship and Jasmine is one of them. Come celebrate with us for a beautiful day on the waterfront in the Inner Harbor.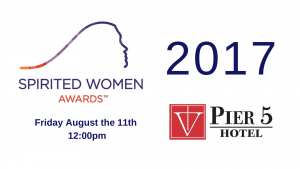 The Awards will take place on Friday August 11, 2017, 11:30 AM – 2 PM at the Pier V Hotel 711 Eastern Ave, Baltimore, MD 21202. The profits of the event will be designated to support the continued efforts of The Giving Spirits Foundation as well as Benevolent Baskets, an organization that provides life skills and job training to formerly homeless women through a growing gift basket business.
Tickets are $75 until July 31, then $80 leading up to the event. To purchase tickets click here.
Tagged:
benevolent baskets
Giving Spirits Foundation
Jasmine Simms
Moms as Enrepreneurs
Pier V Hotel
scrub nail boutique
Spirited Woman Awards 2017
spirited woman in entrepreneurship 2017