Meet Jenette Young – Spirited Woman in Entrepreneurship
Jenette Young is the President/Owner of ComForcare Home Care Services of Randallstown Maryland encompassing Baltimore City, Baltimore County, Carroll County and surrounding areas since June 2009. Her company satisfies the personal care and companionship needs of our senior adult community and persons in need of care due to sickness or surgery.
Jenette is an accomplished mentor and has received multiple awards for her development of others including "Mentor of the Year". She has been on the Steering Committee of Giant's Networking Women Program and has spearheaded many of the Minority Mentor programs. Her additional awards include: being ranked as a Top 100 Minority Business Enterprise amongst minority enterprises in the Mid-Atlantic Region by the Mayor of Baltimore, 2014 Brava Award– honoring top female CEOs by Smart CEO and being named 17th Fastest Growing Women-Owned Businesses in 2014 by the Baltimore Business Journal.
Through her positive impact on the community, Jenette has shown that women can attain personal success and help others grow in the process. This year, five amazing women will be recognized for their accomplishments as Spirited Women in Entrepreneurship and Jenette is one of them. Come celebrate with us for a beautiful day on the waterfront in the Inner Harbor.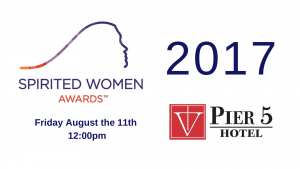 The Awards will take place on Friday August 11, 2017, 11:30 AM – 2 PM at the Pier V Hotel 711 Eastern Ave, Baltimore, MD 21202. The profits of the event will be designated to support the continued efforts of The Giving Spirits Foundation as well as Benevolent Baskets, an organization that provides life skills and job training to formerly homeless women through a growing gift basket business.
Tickets are $75 until July 31, then $80 leading up to the event. To purchase tickets click here.
Tagged:
benevolent baskets
ComForcare
ComForCare Baltimore
Giving Spirits Foundation
jenette young
Pier V Hotel
Spirited Woman Awards 2017
spirited woman in entrepreneurship 2017