Skeleton Crew is the story of four factory workers facing the fate of many autoworkers during the decline of the auto industry in Detroit. Written by highly acclaimed playwright and author Dominique Morisseau, this is the 3rd in her Detroit trilogy. Morisseau is the first US playwright that outgoing Artistic Director Kwei-Armah collaborated with, the fact that this is his last production with Center Stage comes full circle.
Director Nicole A. Watson crafts the production in a manner that gives you a feeling of being a fly on the wall capable of visceral feelings for the plight of the four main characters, all brilliantly acted by Brittany Bellizeare (Shanita), Stephanie Barry (Faye), Sekou Laidlow (Reggie) and Gabriel Lawrence (Dez). You watch from your seat feeling a mix between voyeur and a silent, yet full participant in the conversation.
The play situated in the year 2008, a time that seems lifetimes ago with all the talk of a bursting and strong economy (yet was only a mere decade ago) focuses on the collapse of the auto industry. The story is one of strength, of loyalty, of hope and of dignity, a story that continues to repeat itself, the more we rely on technology to do what human hands have for decades and centuries.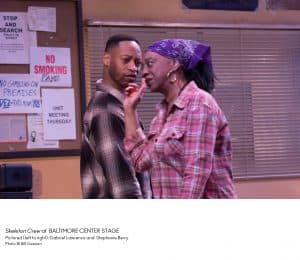 Faye (the elder of the group) and anchor of the plot is played with a skill by Barry, worthy of a bigger production and grander stage. Barry doesn't perform Faye, she breathes soul into her, so convincingly, you have to remind yourself it's a play you're watching. The other characters are equally skilled, but Faye's portrayal, is so convincingly natural, and visceral, even though the subject matter is harsh, you feel for her, but really feel for her, to the point of being gushy.
Skeleton Crew is presented as a part of the Women's Voices Theatre Festival, whose mission is to highlight plays written by women, and the range of professional theatres that works by women are being produced in and around the Baltimore/Washington region. For a complete list of events related to the Festival, who's Honorary Chair is Allison Janney, click here.
The play, set amid the crumbling of the "American Dream" for autoworkers in Detroit, touches on survival, strength, not ignoring racial and economic disparities in American culture. Baltimore Center Stage, in its continuation of its "Season of Community" has partnered with local labor unions to share the working-class viewpoint in Talk Bakes during the production. Skeleton Crew runs from now until it closes Sunday March 4, 2018. To purchase tickets or find out more visit Center Stage.