CREW Baltimore – One of Baltimore's best networking resources for women in business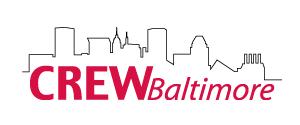 For a while now, we had heard that CREW Baltimore was a dynamic place for women in business to network and one of the Baltimore business community's most beneficial places to hob nob. Recently last month we had the opportunity to attend one of their popular events and check it out.
CREW Baltimore is membership based organisation designed to meet the needs and interests of professional and entrepreneurial Women particularly focused on the Commercial Real Estate industry; hence the C.R.E.W.  acronym. Participants we spoke to at a recent event came from all over the state of Maryland and encompassed women professionals, business owners and entrepreneurs as well as executives.
On it's chapter web site – CREW Baltimore says that…
CREW-Baltimore is a member of the CREW Network.  Its members specialize in diverse areas of real estate including development, law, leasing, financing, banking, architecture, construction, and consulting.
The event we attended on January 18, 2013  was a repeat of  similar event done last year which had been very popular. It featured an impressive panel titled "The Road Ahead" and included networking, a sit down luncheon and presentation.  The event's experts offered an overview of commercial real estate markets in the Baltimore region economically,  as well as delved into what the impacts of the fiscal cliff and the subsequent cog in Congress might have on the industry in the near future and beyond.
The event's panelists included:
Dean Swanky Vice President, ULI Center for Capital Markets and Real Estate
Gloria Berthold Larkin President, TargetGov
Mary Ann Scully President and Chief Executive Officer, Howard Bank
Roger Staiger, FRICS Managing Director, Stage Capital, LLC
The above were skillfully moderated by Nancy R. Ferrell  who is a Senior Vice President/Managing Director with NorthMarq Capita.
Speaking for ourselves we found the event to be a great mix of expert commentary, interesting people ranging in a wide variety of ages and professions, as well as most pleasant meal and surroundings. With over 100 in attendance, kudos to CREW Baltimore's Program committee for a job well done!
Some of the more interesting points shared included Mary Ann Scully's (Howard Bank) views on the Capital Markets and how their continued weakness might impact the future, as well as the the fact that in terms of Venture Capital funding less than 100 Million was raised in Maryland and Northern, VA last year (2012). Gloria Larkin (Target Gov), a government contracting expert shared valuable information regarding  BRAC not being stalled per se, but rather at the end of its cycle. She offered hopeful possibility that with a similar initiative resuming in 2015 the crowd should be encouraged and on the lookout for the opportunities related to this in the commercial real estate sector as a result.
Why are we sharing this? Because it speaks to the level of information shared, and the kind of people you can expect to meet if you network at a CREW Baltimore event – in other words, these people mean serious business.

At $50 for members and $65  for non-members including valet parking – we felt this event was well worth the money, and provided tremendous value.
Afterwards we asked CREW Baltimore to elaborate more on their chapter and here's what they shared with us…
When was CREW Baltimore founded?
The Baltimore Chapter was founded in 1985, and was a founding chapter of CREW Network when it was formed in 1989.
How many active, current member does CREW Baltimore have?
120.
What is the primary mission of the Baltimore Chapter?
CREW-Baltimore promotes the business interests and professional advancement of women in all disciplines of the commercial real estate industry by providing educational and networking opportunities and contributing resources to support the local community.
CREW-Baltimore is a member of the CREW Network.  Its members specialize in diverse areas of real estate including development, law, leasing, financing, banking, architecture, construction, and consulting.
CREW-Baltimore strives to:
Attract and retain members from all disciplines of the real estate industry.
Recruit members that add to the professional, racial and cultural diversity of the organization.
Provide educational and professional programs on a regular basis that provide members with networking opportunities.
Encourage and support women real estate professionals in attaining their goals.
What type of person would benefit most from participating in CREW Baltimore?
Anyone involved in the Commercial Real Estate Industry who is interested in networking, enjoying incredible real estate related programs and growing professionally. CREW has 8,000 members so our members do business both locally and nationally.
For more information on CREW Baltimore and/or membership information visit their web site: www.crewbaltimore.org
Tagged:
commercial real estate women Baltimore
CREW Baltimore
howard bank
mary ann scully
Maryland women business owners
mycity4her media
Target Gov
women entrepreneurs Baltimore
women in business Baltimore
women in business Maryland