FASHION NIGHT OUT in BALTIMORE – Recap
Heads up – did you notice an unusually high number of well dressed people in downtown Baltimore last night around Power Plant Live? Well if you didn't you must have your head buried in the sand. Downtown Baltimore was abuzz with its own Fashion's Night Out celebration – and what an event it was.  Fashion's Night Out is an event where all across the country on 9/6/2012 people joined fashion editors, stars, models, fashionistas, and designers as they flooded stores in cities across the nation and around the world for fashion's most iconic extravaganza, Baltimore was no exception.
Don't know what Fashion's Night Out is – click here to inform yourself!
This year's event was located in the heart of the Power Plant Live complex (one of Baltimore's most successful mixed use development consisting of bars, fine restaurants, art spaces developed by the Cordish companies in the early 2000's) and I must say – what an amazing location and perfect choice for a fashion celebration that is. There's an embarrassment of choices within walking distance and in the complex itself in terms of where to eat and play when you're there – whether for a date night,  or outing with kids. Baltimore's City most fashionable Mayor – The Honorable Stephanie Rawlings Blake was unfortunately out of town for the Democratic National Convention and could not make the event; however we have it on good authority that she made a point of encouraging Baltimore City retailers last week, in anticipation of the event and out of a desire to show support and enthusiasm for this initiative even she, herself could not be there herself in person.
Before we hit the runway show – we thought it best to get some sustenance for what was certain to be a long night enjoying the festivities and decided on Steve de Castro's Ruth's Chris restaurant, located smack dab in the heart of the lively (pun intended) downtown area.
Sometimes when it comes to food – women in business in the know –  it's better like fashion to stick to the
classics. We wanted something decadent and fabulous – where better to go in Power Plant Live than Ruth's Chris?  Click here to read our post about the meal. We enjoyed every bite and our server, veteran fine dining professional Scott Curran & General Manager David Doward made sure we had a  fantastic and memorable experience, thank you. We highly suggest you keep Ruth's Chris in mind for all your corporate entertaining and holiday dining needs) and we look forward to visiting Ruth's Chris next week again albeit at a different location Pier V for Aloha Royale (what we're calling the upscale tail gate to kick off the Ravens Season).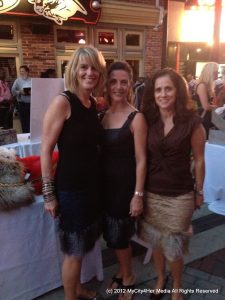 After a great meal we sauntered over to Power Plant Live which was dressed to kill for the Baltimore Fashion Alliance's homage to the International Movement known as Fashion's Night Out. If you were looking for a place in Baltimore to get a look at a lot of beautiful people, fabulous clothes all the while hearing great music – that was the place to be. Several prominent Baltimore business people were spotted including Pat Turner (Turner Development), Deni Tabor (Ashley Custom Homes), Stephen Ross (Merrill Lynch), Hammond Jay Dugan (Pierre C. Dugan & Nephew), Shelonda Stokes (GreiBO Media), Heidi Klotzman (HeidNSeek), Beverly Hill (Nordstrom), Ken Rochon (Umbrella Syndicate), Glenwood Jackson, not to mention Heidi Slacum, Entrepreneur & owner of FRESH boutique as well as the evening's Fashion Show event coordinator.
Society and fashion reporter for the Baltimore, as well as socialite and style maven Sloane Brown was introducing what we thought to be one of the most fabulous style initiatives – with her new "Skirt Flirt" an innovative piece of clothing that allows you to create hundreds of great, fashionable, couture looking outfits with its innovative & proprietary design – not to mention her fantastic bags and jewelry which have become classics in the closets of Baltimore's best dressed for some time now. Go Sloane GO! We love the "Skirt Flirt" and encourage you to find out more about it by clicking here.
Congratulations to the Baltimore Fashion Alliance and it's co-founders Ella Pritsker & Christopher Schaffer for a great event! We loved being a part of it and look forward to next year.
More pictures of the event can be found below: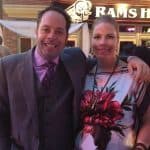 Some of the highlights of events around town – this was submitted by Cupcake boutique owner Lisa Schatz
Tagged:
Ashley Custom Homes
Beverly Hill
Christopher Schaffer
Christopher Schaffer Clothiers
Deni Tabor
Ella Moda Couture
Ella Pritsker
FRESH boutique
Greibo Media
Hammond James Dugan IV
Heidi Klotzman
Heidi Slacum
Monyka Berrocosa
Nordstrom
Pat Turner
Pierre C. Dugan & Nephew
Shelonda Stokes
Stephen Ross Merrill Lynch
Turner Development