Ruth's Chris – Water Street Location – Downtown Baltimore
By Monyka Berrocosa
As any savvy woman in business knows – sometimes when it comes to food – it's better (like fashion) to stick to the classics. Recently when a celebratory meal was in order right before we hit the Baltimore Fashion Alliance's Fashion's Night Out we wanted to grab dinner. Convenience & valet definitely influenced our choice of where to nosh and dish pre-event downtown, with that in mind we decided to treat ourselves and go to Steve De Castro's Ruth's Chris in Power Plant Live.
We called ahead to reserve a great table and spoke with SallyAnn Koontz, the Private Dining Director, who made sure we'd be tucked in a corner all cozy and quiet. Upon arrival we were greeted with two signature cocktails; boding a great start to our meal – suffice to say both were delicious.  The Moscow Mule (which features Ketel One Vodka, Ginger liqueur, fresh lime and Ginger Ale) was refreshing and delicious; we enjoyed the frisky Blueberry Mojito ( not only pretty, but a fun take on the classic) which in keeping with the evening's theme was pretty and stylish to sip!
Dinner commenced with a most excellent appetizer of seared scallops which were as big as small muffins.No joke, more importantly – they were absolutely fresh and perfectly scrumptious. Looking over the extensive menu – we had the embarrassment of choice what to order, everything was tempting but it seemed sacrilege to eat at a place known for steaks and not indulge in red meat, so we dove in. As a second appetizer we decided to go for the gusto and picked their famed decadent wedge salad, smothered in blue cheese and bacon. Both paired well with a nice Sauvignon Blanc, suggested for our dining pleasure.
Veteran expert waiter Scott Curran took great care of us as we reminisced about old Baltimore dining institutions like Marconi's,  L'Auberge and the Eager House and might we add Scott provided us with incredible service. Some of the best we've had to date in Baltimore, no small achievement. General Manager David Doward walked us through the extensive wine list suggesting an excellent 2007 Burly wine (produced by former Silver Oaks winemaker Massimo Monticelli)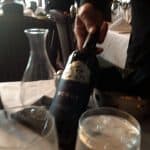 Our entrees arrived, perfectly suited to the rich, but very approachable, fruit-
forward red in a timely manner and on hot plates to further enhance the dining experience. Both the classic Ribeye and Petite Filet au Poivre with fried Shiitake mushrooms were fantastic main courses – which we complimented with baked potato and sauteed spinach. The hit of the meal however – was the wine, which totally made it.
Dessert and coffee consisted of having to pick between table side Bananas Foster (a dying classic dining art that has to be experienced at least once in a lifetime- as it tastes great and is just fantastic to experience) and the Caramelized Banana Cream pie. We opted for the latter, and being so stuffed – ended up boxing it and having it for breakfast the next day. It fed two – quite well – enough said.
Need to know information:
Ruth's Chris located in Restaurant Row At Market Place in Power Plant Live
600 Water Street
Baltimore, MD 21202
Directions
Valet Parking Available
Phone 410.783.0033
Hours
Lounge opens at 4 daily
Dinner served:
Sunday 4-9
Mon-Th 5-10
Fri-Sat 5-11
For more information click here.
Tagged:
Burly Wine
David Doward
David Doward General Manager of Ruth's Chris Baltimore
dining in Baltimore
dining options for women in business in Baltimore
maryland
Monyka Berrocosa
Moscow Mule cocktail
Ruth's Chris Water Street Baltimore
Ruth's Chris Water Street Baltimore MD
Sallyann Koontz
Scott Curran
Silver Oak
Steve de Castro