Mompreneurs take note! Gadgets & Goodies to help make Work from Home Mom's lives easier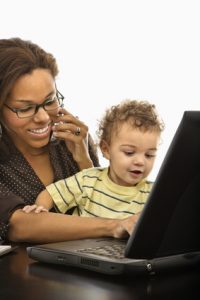 The phenomenon of the "mompreneur" is no secret. Now more than ever – lured by the flexibility of setting your own schedule, ability to "be there" for family and kids and just more opportunity to successfully explore the opportunities of entrepreneurship – more women are choosing to combine the career of being a Mom (which is a job in and of itself) with being a business owner.
Working Mom's account for a large portion of women in business, professionals, consultants and women entrepreneurs. Not just here in our home town of Baltimore, Maryland but everywhere really.  The working Mom on the go – doing it all – is not just a trend, it's a reality. In honor of impending Mother's Day – Lesley Morrow penned a great guest blog about Gadgets and Goodies to help Mom's who work from home -do so- better.
Lesley writes…
As a child, I often wondered if my mother would have preferred going into the office part-time and working from home the other part. There weren't as many choices for women in those days. With innovations in communication technology, women can work from home — while still experiencing the joys of motherhood — and never miss a beat. Irene Chang Kwon, of WorkingMother.com, suggests a few helpful tools that working moms should seriously consider purchasing for their home office.
Anywhere, Anytime Office
With Microsoft's new Office 365 Home Premium, all you need is a laptop and you can take your office where ever you go — to the laundromat, to daycare, or when you need a quiet place away from the family to get your work done. This updated version comes with OneNote for making lists and taking notes, which you can access on your smart phone with the OneNote app. FlashFill on Excel acts as a data assistant to eliminate monotonous unnecessary data entry. Where ever you go, you can organize your thoughts and work.
Tools for E-Commerce
Lots of moms sell their products and services through e-commerce sites. To run a successful e-commerce site, you're going to need more than a PayPal account and e-cart on your site. One great way to connect with site users or offer assistance is to sign up with a reliable and easy to use web-based chat service. Live support by LivePerson can be used to communicate with customers on a desktop, laptop and now through mobile devices. You can have more opportunities to make a sale and even upsell if your customers can reach you for assistance at any time, any where.
Have a NeatDesk
Available at Office Depot, NeatDesk is the only scanner and digital filing system that you will ever need. This scanner can take three sizes of paper, digitize important information and can be used with Windows XP/Vista/7 processors.  Scan receipts, scraps of paper with ideas, phone numbers, business cards, invoices — anything you like. You can scan up to 25 documents per minute. Sure it's a little pricey, at $379, but it's a multipurpose machine that will make scanning and digitizing easier.
Charge Your Gadgets
If you're like me, you probably forget to recharge your gadgets. I haven't had any issues with this since I got the Converge docking station. It is a great place to store and charge iPads, iPhones, iPods and cameras. It comes with 4 USB plugin areas and delivers 110-240 volts, so everything can get juiced up at once.
These tools will help you to have a more productive time while working from home, so you can focus on balancing your life as mom and as a working woman.
MyCity4Her's Top 4 Apps, Cool things, and more for Working Moms
Evernote – It's no secret that pregnancy and motherhood can do some weird things to your brain's ability to retain information, remember things, or stay organized. Evernote is a god send as it has ways for you to keep all the information you don't want to forget…at your finger tips in an easily accessible way. Learn more by clicking here.
Audible – Being busy is something any entrepreneur can relate to – but a Mom who's an entrepreneur and business owner takes that to a whole new level. Audible is an Amazon company that offers an amazing array of books that can be listened to (while you drive, while you fold laundry, while you rock baby with head phones….or while you grocery shop.) Featuring all the best business titles, as well as an amazing array of fiction, non-fiction and books in every discipline – including some great "how-to's". We love Audible because it keeps us in tune, and up to speed. In fact a working Mom we know is listening to Brene Brown's awesome work "The gifts of Imperfection" a great book to read when you're feeling overwhelmed and worried you won't get it "all right" right away, or perhaps ever. Learn more by clicking here.
Dragon Dictation – Helps working Mom's optimize time by using voice-recognition to type text messages, emails, reminders or status updates. Keeps hands free for other things like driving…among other things and is a real time saver. Learn more by clicking here.
Bipper – Bipper – a visionary, Mom-owned company based in Europe and Palo Alto, and headed up by Silje Vallestad, a Norwegian Mompreneur who thought cell phones could and should be used to make kids (and families) safer and feel more secure – has a suite of products to do just that. We have interviewed Silje on MyCity4HerRadio – listen to the podcast here. If you want to discover Bipper and it's products , learn more by clicking here.
By Lesley Morrow, for MyCity4Her Media
Lesley is a stay-at-home mom, activist and theatre director. She loves being busy and writing about all her adventures.
Tagged:
Audible
Bipper
Brene Brown
Dragon
Evernote
How to live wholedheartedly
how to multi-task
Irene Chang Kwon
mompreneurs
Safekids
Silje Vallestad
the Gifts of Imperfection
women business owners
women entrepreneurs Baltimore
Women in Business
working Mom's Mother's Day
WorkingMother.com