On a frigid early spring evening the who's who of Baltimore's Catering and Event Planning professionals gathered at Baltimore Country Club for an evening of fun, philanthropy and celebration of all that says party.
The normally staid and serene Baltimore Country Club was an interesting if somewhat out of left field choice of location given the theme and ambitious desire to create several "themed" Baltimore neighborhood venues within the venue…
However, NACE's committee delivered;  transporting guests to the likes of Hampden, A Kibbitz Room, a Greek Taverna by the sea and an Italian cafe among others pretty convincingly within the confines of blue blood Baltimore comfort and club ambiance. No small feat – but these are event professionals right – so we should have expected no less.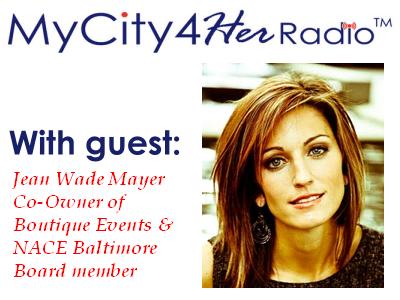 Co-Fundraising Chair Jean Wade Mayer, Co-Owner of Boutique Events was recently a guest on MyCity4Her Radio talking about the organization's mission and it's goals for the event. To listen to the podcast of the show click here.
On the show Jean shared some of her best event planning tips as well as talked at length about the mission of NACE and how it can help women in business in the hospitality business grow and be more successful.
NACE aims to provide it's members with many opportunities to grow and for their business to gain momentum but it's mission is two-fold and there also is a strong community outreach component. The annual gala aims to raise funds for a variety of worthy causes and this year's was no exception. The main beneficiaries included Moveable Feast and the Foundation of NACE.
Noted attendees included Sloane Brown (covering the story for the Sun), Eddie Wingrat (Owner of Flowers & Fancies), Andrew Zill (Creative Director of Feats!), Dulany Noble (Gala Clothes by Dulany), Stephanie Bradshaw (Bradshaw Styling) who arrived later in the evening but looked every the part of the stunning stylist anyway. Other merry makers included Heidi Klotzman (HeidnSeek Entertainment), Denise Buchman (Coco Lane), Caryn Sagal (Lawrence Howard & Associates), Jerry Edwards (Chefs Expressions) whose Italian rendez vous took home top honors for the evening &  Celeste Corsaro  as well as  many others too numerous to mention. It was a swell, friendly, up beat crowd which makes for a fun party – that's all we can say.
Clearly a good time was had by all in attendance and we're guessing that next year's committee is going to have their hands full topping this year's festive and creative decor and theme. We'll look forward to seeing what they come up with! For more information on NACE Baltimore click here.