World Trade Center Institute Annual Meeting & Wine Tasting – Recap
On Thursday November 29, 2012 the World Trade Center Institute held its annual "State of the Port" address as well as annual meeting and wine tasting. The event, which featured wines from Argentina, Brazil, Chile and France as well as dignitaries from the said embassies to pour and educate attendees about the various offerings was well attended as usual. About 200 people crowded into the top of the World Trade Center and feasted their eyes on what is sure to be one of Baltimore City's prettiest views of the harbor and enjoyed appetizers courtesy of Innovative Gourmet.
Deb Kielty, WTCI's President and Executive Director led the presentations by introducing the evening's sponsors. The co-host was Duane Morris LLP, additional sponsors included Ports America Chesapeake, Arinc, Areas, MDOT, McCormick, Jhpiego, M&T Bank, Bahri and British Airways.
Attendees of the event included Bridget Lowy, President of Dartrans, John Starling of Smith Growth Partners, Sherri Allen  of Alliance Engineering, Richard Dix of S2 Financial, Will Sirota, the Chair of Duane Morris LLP's Baltimore Office, and many others from Baltimore's business community.
The World Trade Center Institute (WTCI) is the largest international business network of its kind in the Mid-Atlantic – and counts among its members a veritable " who's who" of the top global business executives in the region. More women in business should consider it as one of the "out of the box" options for excellent, high level business networkings as it really does draw well beyond the usual suspects and facilitates connections with some of the region's most prominent business people.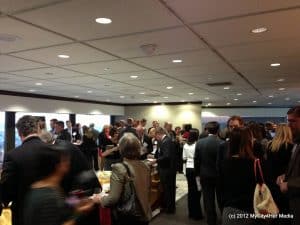 WTCI strives to drive the growth of Maryland's flourishing global business community. Today more than 2,500 Maryland firms benefit from WTCI's global connections, events, international visitors program and extensive global business services.  In addition, WTCI serves as the World Bank Group's Private Sector Liaison Officer (PSLO) for the region, enabling local firms to access opportunities in developing counties. For more information click here.
Top highlights from the meeting included the fact that Ports America Chesapeake's Seagirt Marine Terminal has a newly completed 50-foot-berth and four super-post Panamax cranes in a practical yard layout that increases vessel loading and discharge productivity.  This project created 5700 new jobs and now means that Baltimore is one of only two ports able to accept the larger ships anticipated to travel through related to the anticipated expansion of the Panama Canal in 2015; thus further solidifying Baltimore as a major player in international shipping and trade.
Darrell Mobley, Maryland's acting Transportation Secretary put forth a promising progress report that highlighted how caro is already on the rise at the port and the at present the Baltimore port handles more "roll on – roll off" cargo than any other port in the US. Secretary Mobley also expanded on the fact that pleasure cruising thanks to Carnival and Royal Carribean's increased presence in the port represents a projected economic impact of above 90 Million for the region. He also atttributed over 93,000 jobs to Baltimore Washington International Airport's growth and stated that the airport had processed a record of over 22.4 Million passengers in 2011 and was posed to increase in 2012.
Tagged:
Areas
Arinc
Bahri and British Airways
baltimore women business owners
Baltimore Women in Business
Deb Kielty
Duane Morris LLP
Jhpiego
M&T Bank
McCormick
MDOT
Ports America Chesapeake
State of the Ports address WTCI
World Trade Center Institute Annual Wine Event and Meeting