Meet Angelique Weger – Spirited Woman Giving Back
Angelique Weger is a senior UX engineer at Fractured Atlas, a nonprofit technology company that helps artists and arts organizations with the business side of their work. She is one of the founders of Baltimore's Girl Develop It chapter, which has more than 1,300 members, women from all walks of life who are changing their lives by learning to code. Prior to working for Fractured Atlas, Angelique developed web sites as a freelancer, in collaboration with Left Bank Creative and as senior front-end developer for Detroit Trading.
The Spirited Woman Giving Back Award was designed to celebrate women who give back to their community by sharing their time and knowledge. Angelique empowers women of Baltimore by teaching them about technology and how to be a content creator. For Angelique, giving back is one way she can acknowledge and celebrate all that has been given to her throughout her career. Angelique is one of 17 spirited Baltimoreans who will be recognized at the upcoming event taking place in the beautiful Inner Harbor. What better way to kick off a weekend than with an inspiring lunch and afternoon with a beautiful view?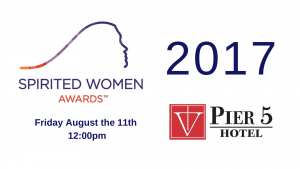 The Awards will take place on Friday August 11, 2017, 11:30 AM – 2 PM at the Pier V Hotel 711 Eastern Ave, Baltimore, MD 21202. The profits of the event will be designated to support the continued efforts of The Giving Spirits Foundation as well as Benevolent Baskets, an organization that provides life skills and job training to formerly homeless women through a growing gift basket business.
Tickets are $75 until July 31, then $80 leading up to the event. To purchase tickets click here.
Tagged:
Angelique Weger
Detroit Trading
Fractured Atlas
Girl Develop it
Left Bank Creative
Pier V Hotel
Spirited Woman in Balance 2017
Spirited Woman of Baltimore Awards