Meet Diana Torruella Gaines – Spirited Woman in Entrepreneurship
Diana Torruella Gaines, a graduate of Duke University with a B.A. in Economics, is a native of Puerto Rico. Her years in business include experience in commercial banking specializing in health care lending, holding management positions at Equitable Bank, First National Bank of Maryland, and GE Capital Corporation. She took 12 years off to raise her children and came out of retirement in 2010 to help her husband Steve start his own business.
Diana established Tu Casa Development Group in March of 2011, when she redefined herself as a real estate developer in Baltimore City. Diana felt our country's economic resurgence would start in its inner cities, so Why Not start by investing in her own city of Baltimore? Utilizing the Vacants to Value Program and EBDI RFP's, Diana has redeveloped in several neighborhoods. Blocks previously characterized by blight and abandonment are completely revitalized.
Diana's accomplishments as a spirited female entrepreneur of Baltimore will be celebrated on August 11th at the Spirited Women Awards, where she will receive the Spirited Woman in Entrepreneurship award. Join us for a delicious lunch and afternoon in the beautiful Inner Harbor!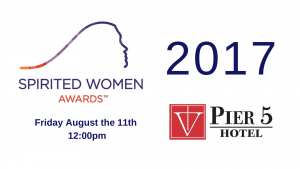 The Awards will take place on Friday August 11, 2017, 11:30 AM – 2 PM at the Pier V Hotel 711 Eastern Ave, Baltimore, MD 21202. The profits of the event will be designated to support the continued efforts of The Giving Spirits Foundation as well as Benevolent Baskets, an organization that provides life skills and job training to formerly homeless women through a growing gift basket business.
Tickets are $75 until July 31, then $80 leading up to the event. To purchase tickets click here.
Tagged:
benevolent baskets
diana gaines
Diana Torruella Gaines
Duke University
Giving Spirits Foundation
Pier V Hotel
Spirited Woman Awards 2017
spirited woman in entrepreneurship 2017
SWA
Tu Casa Development group
Vacants to Value Program Baltimore City