Meet Lesley Geisel – Spirited Woman 2017
Lesley Geisel, co-founder of Benevolent Baskets has devoted her life to helping others discover their purpose and sense of worth. Prior to starting Benevolent Baskets in 2008, Lesley was director of education at Pathways drug and alcohol center in Annapolis where she helped students to rebuild their lives through recovery.
She began her career as a teacher, spending 22 years teaching emotionally impaired students. Lesley serves on the Leadership Council for My Sister's Place Women's Center and was honored as "Women of the Year" in 2013. She has served on the grants and nominating committees for the Baltimore Women's Giving Circle and is currently on the post grants committee. Lesley and her husband are member of United Way's Tocqueville Society.
For Lesley, "Spirited means giving back not because you can but because you want to help others on their life's journey." She will be recognised as Spirited Woman of Baltimore 2017 on August 11th. Come celebrate with us for a delightful afternoon on the waterfront.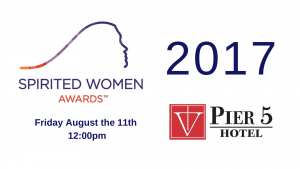 The Awards will take place on Friday August 11, 2017, 11:30 AM – 2 PM at the Pier V Hotel 711 Eastern Ave, Baltimore, MD 21202. The profits of the event will be designated to support the continued efforts of The Giving Spirits Foundation as well as Benevolent Baskets, an organization that provides life skills and job training to formerly homeless women through a growing gift basket business.
Tagged:
benevolent baskets
Giving Spirits Foundation
karen lerario
lesley geisel
my sisters place
pathways
Pier V Hotel
Spirited Woman Awards 2017
spirited woman of Baltimore 2017
tocqueville society