Meet Elizabeth Degi Mount – Spirited Woman in Balance
Currently serving as Executive Director of the Downtown Baltimore Family Alliance (DBFA), Elizabeth directs all aspects of the alliance's work to improve public schools, promote smart development, and strengthen community resources for city families. She is actively involved in community affairs, sitting on Boards of Directors for the Downtown Partnership of Baltimore and the Baltimore Arts Education Coalition, and serving as Advisory Board President of the Maryland Maternity Access Coalition.
Prior to coming to Baltimore, Elizabeth spearheaded the creation of the George Mason University Center for the Study of Gender and Conflict, and served as the Center's founding Executive Director. Elizabeth has been a consultant to numerous non-profits organizations and NGOs including the United Nations, as well as to USAID and U.S. government contractors on a range of issues related to gender-based violence and women's empowerment.
An avid proponent of city living, Elizabeth lives with her husband, son and Labrador in a Ridgely's Delight row home the family renovated. It is not an easy task to balance work and family life while giving back to the community, but Elizabeth does it gracefully. That is why she will be celebrated at the Spirited Women Awards 2017 as Spirited Woman in Balance. Come celebrate her and 16 other Baltimoreans and kick off the weekend with an inspiring lunch and afternoon with a beautiful view.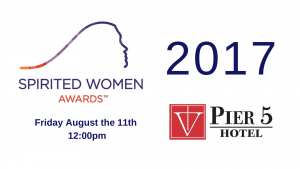 The Awards will take place on Friday August 11, 2017, 11:30 AM – 2 PM at the Pier V Hotel 711 Eastern Ave, Baltimore, MD 21202. The profits of the event will be designated to support the continued efforts of The Giving Spirits Foundation as well as Benevolent Baskets, an organization that provides life skills and job training to formerly homeless women through a growing gift basket business.
Tickets are $75 until July 31, then $80 leading up to the event. To purchase tickets click here.
Tagged:
DBFA
Downtown Baltimore Family Alliance
Elizabeth Degi Mount
Pier V Hotel
Spirited Woman Awards 2017
Spirited Woman in Balance 2017
united nations